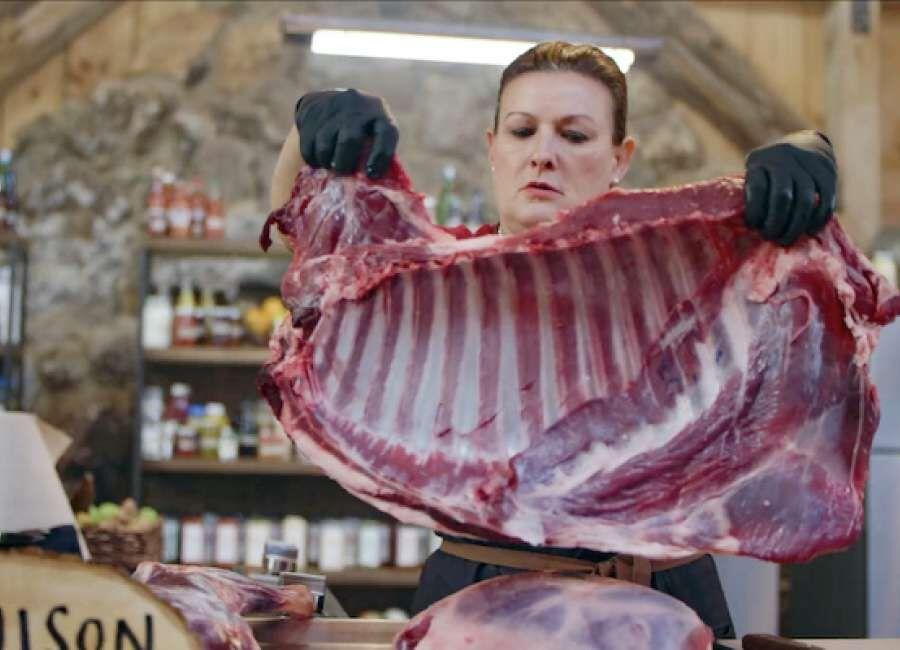 Tina Cannon, chef for Meals on Wheels of Coweta and a barbecue competition champion, will be featured as a competitor in Netflix's "American Barbecue Showdown" when it airs Sept. 18.
The eight-episode food competition series follows the country's best backyard smokers and competitive barbecuers as they compete for the title of American Barbecue Champion, according to a press release from Netflix.
The series is hosted by Rutledge Wood and Lyric Lewis, with judging duties falling on barbecue legends Kevin Bludso and Melissa Cookston.
"Each episode, the judges will task the cookers with a challenge that will test their barbecue skills in ways they couldn't possibly imagine," the release states. "From unique meats to old-school techniques, they will have to prove they have the skills to smoke another day."
Cannon said Netflix reached out to her through Facebook and asked if she would be interested in competing on the show. She said she was on a different show several years ago, and she has also appeared on the show "Bama-Q."
She said she reached back out to them and told them it sounded cool, and they had her fill out an application. Cannon said Netflix gave her recipes she had to cook, photograph and send back.
Then, Cannon said she had to go to a local pitmaster and tell them about her food and let them try it. The local pitmaster Cannon had to go to just happened to be Steve Duncan, owner of Dunc's BBQ Kitchen in Newnan.
Duncan said Netflix called and asked if he would try some of Cannon's food and let them know what he thought. He said the barbecue was amazing and her personality was infectious.
He said Cannon is very knowledgeable about barbecue, and she proved to him that she knows her way around a pit.
"I can't wait until the 18th," Duncan said. "I'm looking forward to watching that show."
After the tasting, Netflix had Cannon cook more dishes and take more pictures, and the next thing Cannon knew, they were picking her up in a private car to start filming the show.
Cannon said the show was filmed in a large barn that had kitchens set up inside and grills set up outside. She said during challenges she had to run between her stations.
The show was filmed last September, and Cannon said she was gone almost the whole month.
"I'm excited to see it," Cannon said. "I've had to keep it a secret this long."
Cannon said each competition was different, and competitors ended up doing a lot of everything. The competitions contained challenges in addition to the time constraints the chefs were under.
"It was crazy," Cannon said. "You think you're going to make this and then you go to get it from the pantry and it wasn't there."
She said while filming one of the challenges, she looked out the window and noticed that the sun was coming up. Cannon said she was so focused on trying to win she didn't realize they had been there all night.
Cannon said the hardest part of the competition was the stress of the time clock.
"You watch all these shows and wonder why they are always down to the wire," Cannon said. "I will never ask that again."
Lifelong friendships
Cannon said the best part of filming the show was the lifelong friendships she made with the other competitors.
She said she still stays in touch with Ashley Thompson of North Carolina and James "Boatright" from St. Louis. Cannon said during filming, the contestants would eat all their meals together and stayed in the same place, so they became very close.
Cannon said she learned a lot from Rasheed Philips, who she said made the best jerk sauce she has ever tasted.
She already knew competitor Sylvie Curry from California because they had competed against each other at the World Food Championships.
Cannon said she was especially excited that Cookston was a judge because there aren't many famous female barbecue chefs.
"I was literally starstruck," Cannon said. "She (Cookston) is one of my idols."
Cannon said the show was also an opportunity for her to cook things she wouldn't buy to cook at home, and she got to taste some food that she wouldn't eat under normal circumstances.
Women in barbecue
Cannon said she went to culinary school when she was young and is classically trained. She said she's been in the field a long time, and barbecue is her specialty.
She said while popular food shows on TV feature female chefs, there haven't always been many opportunities for women in the culinary field. Cannon said she once applied for a job at a French restaurant in Atlanta where she was told by management that they don't hire women.
Cannon began competing in barbecue competitions around the end of 2009. Despite the fact that she competes in 18 to 20 competitions a year and has won over 300 awards, people still walk up to her husband to talk about barbecue at competitions.
"It's almost tradition that the man does it, and things don't change quickly," Cannon said. "I love to be outside and I love to cook, so it's a natural thing for me."
Cannon said she hopes that "American Barbecue Showdown" shows that it's more acceptable for women to be barbecue chefs as well.
"People just need to get out there and do it," Cannon said. "No matter who you are."
She said the show features people of different ages, races and backgrounds who are all connected through their love of barbecue.
"It's not just about cooking and grilling and competition, but we all have the same love and really the same heart," Cannon said.
Meals on Wheels of Coweta
Cannon has been the chef for Meals on Wheels of Coweta for 2 ½ years. She said before she decided to be on "American Barbecue Showdown," she wanted to make sure Meals on Wheels could handle things in her absence.
"They are so supportive," Cannon said. "We have a lot of people to feed. I'm not a mom, but I'm responsible for a lot of people."
She said Meals on Wheels employees and volunteers were willing to step in while she was filming. Cannon said being on the show has helped her at Meals on Wheels because she has to be creative about what she cooks sometimes based on the food donations the organization receives.
Cannon said last year she cooked 40,000 meals for community members through Meals on Wheels. She said many people forget about the elderly in our community, and COVID-19 has been especially tough on them.
She said for many elderly community members, Meals on Wheels is their lifeline for food, and volunteers are able to check in on them to make sure they are doing alright.
"I feel so good about what I do," Cannon said. "I have never not wanted to go to work since the first day I started."
Virtual viewing party
When the show airs on Netflix, Cannon said she will be on vacation and she is planning to have a virtual viewing party over Zoom. She said volunteers and staff with Meals on Wheels of Coweta will be watching in Newnan.
Cannon said her mother-in-law, who was battling pancreatic cancer while Cannon was filming the show, passed away in May.
She wore two strings of pearls on the show – one for her mother and one for her mother-in-law.
"I wear pearls every day. They go with everything," Cannon said. "You can put pearls on for anything and look good."
Watch Cannon compete in the eight-part series when it premieres on Netflix Sept. 18.