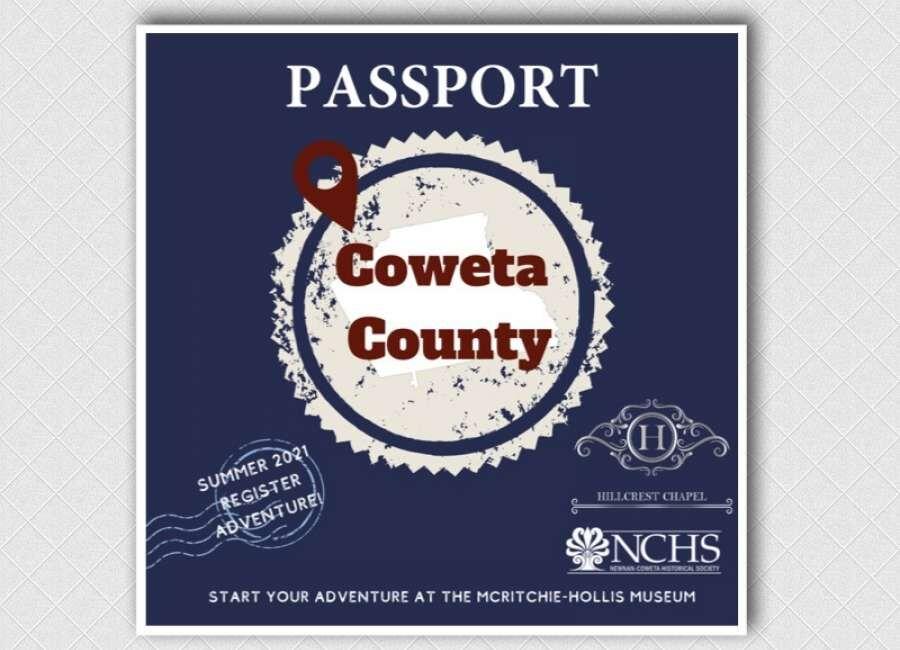 For the third consecutive year, the Newnan-Coweta Historical Society (NCHS) has announced its summer program—"Passport to Coweta County" — with a fun, new theme and 12 locations for Cowetans to explore.
"Passport to Coweta County" is an outdoor exhibit that encourages families to explore different historical locations, areas, and experiences throughout Newnan and the surrounding Coweta County area.
This year, NCHS asks participants to explore local historical places of national significance. Most locations on the 2021 Passport to Coweta County are either state parks or places listed on the National Register of Historic Places. Learn about what makes each of these places so special to our county and "register" your own adventure this summer.
The in-person journey begins at the McRitchie-Hollis Museum where a passport booklet can be acquired for a $5 donation (active NCHS members receive a free booklet), or complete the tour for free by visiting www.passportcoweta.com, going to each location listed, and uploading photos of your visit to the Google form. Each visit earns you a stamp.
Adventurers that complete the passport by the end of the summer can exchange their "stamps" at the McRitchie-Hollis Museum for a congratulatory prize.
This year, Passport Locations include:
McRitchie-Hollis Museum
Hillcrest Chapel (please be aware and respectful during visits)
1904 Coweta County Courthouse
Greenville Street Park
Senoia Area Historical Society History Museum
Grantville Historic District
The Moreland Hometown Heritage Museum
The Little Manse Erskine Caldwell Museum
Line Creek Nature Area
Chattahoochee Bend State Park
Brown's Mill Battlefield
LINC Newnan-Coweta Multi Use Trail System
Special to the 2021 Passport is the inclusion of virtual tours for all regular stops and special virtual-only tours of the Historic Train Depot, the Farmer Street Cemetery, the Newnan Lofts, and Powell Chapel School.
The 2021 Passport to Coweta County is sponsored by Hillcrest Chapel. In 1953, the Willcoxon-Arnold House (c. 1852) was turned into a funeral home which has been in use ever since. Hillcrest Chapel was nominated for a 1991 Georgia Trust for Historic Preservation Award. On May 20, 1991 the Willcoxon/Amold House was listed in the National Register of Historic Places. Hillcrest Chapel has been continuously serving the community for 60 plus years.